Swissotel Tallinn is the venue for NSHG-PM 2023
The workshop will take place at Swissotel Tallinn, the tallest building in the city, boasting impressive views of the old town and the Baltic Sea.
Tallinn's International Airport is only 15 minutes away, while the beautifully restored medieval old town, a UNESCO World Heritage Site with distinctive cobblestone streets, is only a 10-minute walk from the hotel.
Here you will find a vast choice of museums, art galleries and churches to shopping centres, all are conveniently within walking distance.
Venue address 
Swissotel Tallinn, Tornimae Street 3, 10145 Tallinn, Estonia
Inspiration
Find more information about Swissotel Tallinn here.
For useful advice and inspiration on Tallinn's top attractions, activities, events, and places to eat and drink, check out the city's official tourism portal, visittallinn.ee, or follow @VisitTallinn on social media.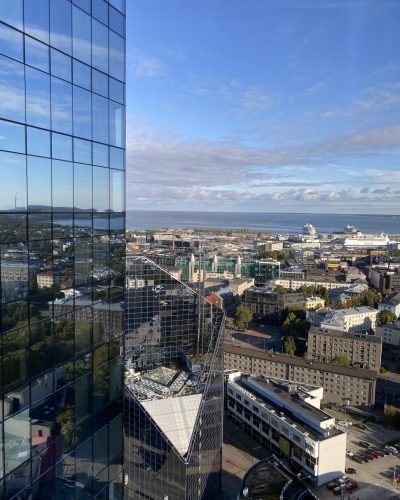 Free transportation from and to the airport
The city of Tallinn has offered to sponsor free public transport during the workshop days from 18-22 June 2023 for our participants.
The tickets are valid on Tallinn bus lines nr 1-73, trolleybuses, and trams.

Please note, that you need to validate the ticket to be able to use it:

The QR ticket must be validated at the bottom of the rectangular orange validator located at the front door of the public transport vehicle.
Place the QR code displayed on a smart device screen or printed on paper in front of the code reader screen situated at the lower part of the rectangular validator.
Tallinn International Airport (4 km)
Take the bus No.2 leaving straight from the airport and travel 5 stops to the stop "Tornimäe". Cross the road and you will arrive at the hotel. The whole journey takes about 20 minutes.
The Central Railway Station (2 km)
Take tram no.2 located 150m from the train station. Travel 11 stops and exit at the stop "Paberi". Walk for 180m to our hotel just across the road. The whole journey takes about 15 minutes.
Tallinn Passenger Port (1.5 km)
Take bus No.2 leaving straight from the port. Travel 4 stops and exit at the stop "Tornimäe". The bus stops right in front of the hotel. The whole journey takes about 20 minutes.
Due to the construction of a new tram line there may be changes to the Tallinn public transportation. Find out more here